LEMAG ECI is an Electronic cylinder pressure indicator which improves engine uptime and lowers operating costs.
LEMAG ECI allows technicians to balance, fine tune and monitor auxiliary and main engines. The Electronic cylinder pressure indicator offers reporting on performance for all large 2- and 4- stroke engines no matter if they are running on natural gas, LPG or HFO/MDO, as long as they are equipped with an indicator valve.
Features of LEMAG ECI
enables fine tuning of engine performance and lowers operating costs

is designed to withstand the harsh conditions found on ships and power plants

has the ability to take continuous engine readings without the risk of overheating the sensor

detects problems before downtime occurs

has a safe, innovative and precise crank angle sensor (optional), which delivers unmatched reading accuracy

is intuitive and easy to use
Intuitive & easy to use
LEMAG ECI is easy to use even while wearing gloves.

The ergonomic handheld unit shows measurements on a large color display.

Confirmation on site in real time that measurement process was successful.

The results can be copied to a PC and analyzed with the included software, or sent to the superintendent for further comparison with historical or reference data.

The step-by-step graphic instructions for different tasks, as well as easy-to-understand menus, makes LEMAG ECI easy to handle, even for new operators.
ECI system calibration



To ensure the quality of the instrument you can easily send it to Chris-Marine Germany for test and calibration. A renewed certification will be provided for each unit. Recommended interval: 12 to 24 months.
Two configurations to match your engine
LEMAG ECI
For accurate cylinder pressure measurements with automatic TDC detection for MIP and power calculation, misfiring analysis and engine balancing function with a high-quality pressure sensor with leak-proof, patented design and excellent thermal specifications.
Includes: Handheld Unit, Pressure Sensor & PC Software.
LEMAG ECI-MS
Includes the easy-to-mount, MS Crank Angle Sensor solution, which allows high-resolution crank angle measurements. This ensures precise MIP and cylinder power calculations. Recommended for use with low-speed engines.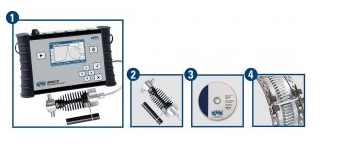 Includes: Handheld Unit, Pressure Sensor, PC Software, Crank Angle Sensor & Belt.